chemical oil drum cleaning equipment,oak barrel cleaning gun
Date:2019-07-17 / Popularity:
3D fixed tank cleaning, chemical tank cleaning / XMT1000 oak barrel cleaning gun / storage tank cleaning equipment / ibc chemical tank, 200Libc ton barrel cleaning equipment
Oil drum cleaning equipment

works:

This series of tank cleaning is driven by an external motor to drive the canister gear to rotate. The running path set by the gear mechanism realizes rotation and revolution, thereby achieving 360° dead angle cleaning. The cleaned wastewater is automatically sucked out by the suction head through the suction pipe to generate a negative pressure, and is discharged through the drain port.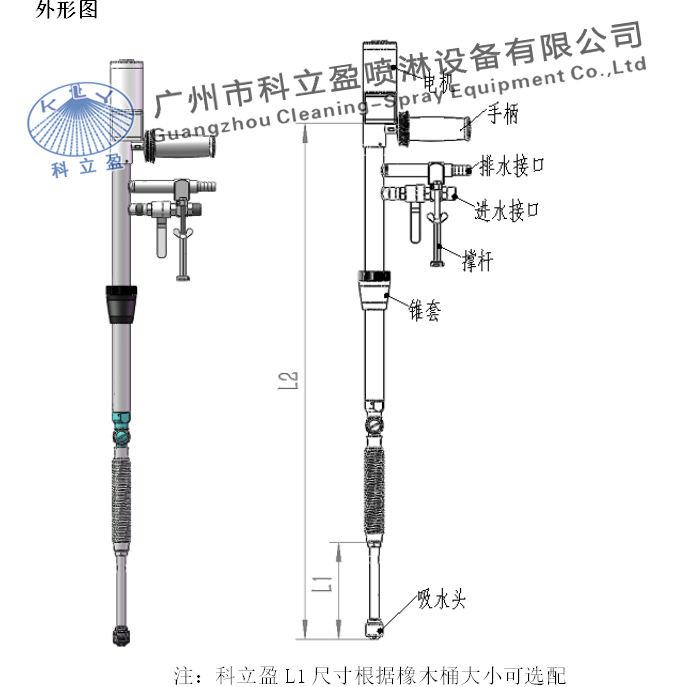 Remarks: Guangzhou cleaning-spray co L1 size can be selected according to the size of the oak barrel
XMT1000 oak barrel cleaning gun
Oak barrel cleaning gun technical parameters
Working pressure: 70bar
Maximum working pressure: 120 bar
Working flow: 12-18L/min
Maximum working temperature: 80 ° C
Cleaning time: 2-4 minutes
Nozzle diameter: 1-1.5mm
Cleaning angle: 360°
Lubrication: self-lubricating by cleaning fluid
Connection method: taper sleeve
Inlet interface: M22*1.5 or G3/8 external thread
Drainage interface: quick connect
Weight: 15kg
Oak barrel / oil drum cleaning equipment performance characteristics:
1. Wash from the top without moving or turning the bucket.
2. No need to use detergent, only clean with pure water, especially environmentally friendly.
3. The impact is large, 360 rotation without dead angle cleaning, clean cut bottom.
4. At the top of the cleaning, the cleaning solution is immediately vacuumed back, saving time and effort.
Tank cleaning application
Applicable to beer barrels, drum barrels, small barrel containers, etc. in the beer industry and wine industry.
Comparison of the process of tank cleaning equipment
---
Recommended 推荐内容
Related products 产品